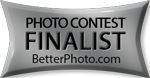 Milky way and cabin in the woods
I have watched this cabin all summer and waited for the best time to photograph it with the Milky Way overhead. The property has a yard light some distance away, but this assisted in providing a nice light to bring out some of the details of the cabin and surrounding area.
© Roxanne M. Westman
Copyright for this gallery photo belongs solely to Roxanne M. Westman. Images may not be copied, downloaded, or used in any way without the express, written permission of the photographer.