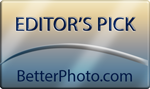 The first Minnesota snowfall
I saw this spot on my way to Itasca state park, however the traffic was so busy there was no good way to pull off so I made a mental note of location so I could pull over on my way home. Without the snow I don't think the image would have the same impact, plus snow covered the little trail making it a great subject as it flows through the scene.
© Roxanne M. Westman
Copyright for this gallery photo belongs solely to Roxanne M. Westman. Images may not be copied, downloaded, or used in any way without the express, written permission of the photographer.