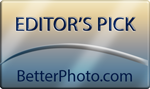 Comet Neowise and North Dakota windmill
Clear skies last night and the comet was to be the brightest. This windmill has no obstructions around it so headed out. Captured during the blue hour so the color in the skies was so lovely.
© Roxanne M. Westman
Copyright for this gallery photo belongs solely to Roxanne M. Westman. Images may not be copied, downloaded, or used in any way without the express, written permission of the photographer.