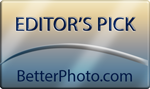 Bennett Creek in the North Dakota badlands
This cactus highlights this overlook in the valley by the Bennett Creek campground. Captured from one of the many buttes that surround the area.
© Roxanne M. Westman
Copyright for this gallery photo belongs solely to Roxanne M. Westman. Images may not be copied, downloaded, or used in any way without the express, written permission of the photographer.