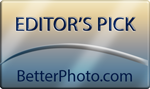 Colors of Fargo
Standing across the street from the iconic Fargo theater taking in all of the vibrant colors. The colors never seem to end. Using a longer exposure I was also able to capture the taillights of some passing cars.
© Roxanne M. Westman
Copyright for this gallery photo belongs solely to Roxanne M. Westman. Images may not be copied, downloaded, or used in any way without the express, written permission of the photographer.