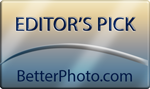 North Dakota windmill under the Milky Way
One of my favorite close places to shoot, the Sheyenne National Grasslands. Scoped out this windmill during the day for any hazards aka, barbed and electric wires and cattle. Once I arrived at 2 am, determine that one shoot was not enough to capture the milky way and the windmill. This image is 4 vertical images merged together.
© Roxanne M. Westman
Copyright for this gallery photo belongs solely to Roxanne M. Westman. Images may not be copied, downloaded, or used in any way without the express, written permission of the photographer.