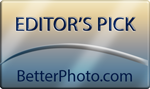 North Dakota sunset in the grasslands
Wandering around on one of the North Country trails to capture some wild crocus as the sun was going down and the clouds were perfect for sunset images. Found these 3 trees on a hill the helped to cut the brightness of the sun. The shadows fell perfectly and allowed for a trail leading into the sun and trees.
© Roxanne M. Westman
Copyright for this gallery photo belongs solely to Roxanne M. Westman. Images may not be copied, downloaded, or used in any way without the express, written permission of the photographer.