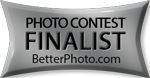 Sandstone overlook of the Little Missouri
Image was captured early morning over the little Missouri river. This lone sandstone looks over the river.
© Roxanne M. Westman
Copyright for this gallery photo belongs solely to Roxanne M. Westman. Images may not be copied, downloaded, or used in any way without the express, written permission of the photographer.