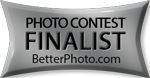 Powerful American Bison black and white
Image was captured in the south unit of the Theodore Roosevelt National Park. There were a couple of bison off the road so I stepped out of my car with my camera equipment; in the distance I could hear the remaining herd. Their sound is very distinct, especially the bulls. I hiked out about .5 miles and found the herd on the other side of a hill. Bison can be very aggressive so I kept my distance and shot with my 70-200 mm and 100-400mm lens. As you can see the bison on the far left is the bull in charge. The image is very real showing the nasty flies that these bison have to contend with.
© Roxanne M. Westman
Copyright for this gallery photo belongs solely to Roxanne M. Westman. Images may not be copied, downloaded, or used in any way without the express, written permission of the photographer.