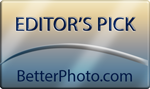 Storm forming over sunflowers
Last night I was out chasing the amazing clouds through our area and came across this blooming sunflower field. There was an open area in the field so I was setting up for a sunset shot when these amazing storm clouds formed just south of my location. This image is a panorama of 3 vertical shots stitched together. Also 2 soft ND filters were used to lower the bright skies.
© Roxanne M. Westman
Copyright for this gallery photo belongs solely to Roxanne M. Westman. Images may not be copied, downloaded, or used in any way without the express, written permission of the photographer.