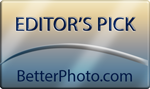 Side road in the wheatfield
Captured a couple of leading lines into this image. Love the old fenceposts and the road that lead the eye into the image.
© Roxanne M. Westman
Copyright for this gallery photo belongs solely to Roxanne M. Westman. Images may not be copied, downloaded, or used in any way without the express, written permission of the photographer.