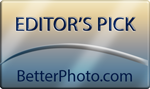 March full winter moon
Knowing that the next few days are going to be cloudy and snowy here in eastern North Dakota, had to put on my layers to capture this beautiful moon even though it's not quite full.
© Roxanne M. Westman
Copyright for this gallery photo belongs solely to Roxanne M. Westman. Images may not be copied, downloaded, or used in any way without the express, written permission of the photographer.