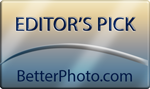 Hot Air Balloon and the Moon
One never knows what may happen on the trail! Out for a hike/photography journey on the North Country trail and this lovely hot air balloon drifted over the trail. Just happen to have an almost full moon in the sky to complement the balloon.
© Roxanne M. Westman
Copyright for this gallery photo belongs solely to Roxanne M. Westman. Images may not be copied, downloaded, or used in any way without the express, written permission of the photographer.